Neuigkeiten
Wir im Kashi Yoga Sangam sind unglaublich dankbar für unsere wunderbaren Yogis,
unsere Verbundenheit und Community, die in diesen verrückten Zeiten nicht zu erschüttern war!
Wir sind glücklich, ganz viel zurückzugeben und unser Netzwerk weiter zu stärken!
Auf ein inspiriertes 2022 in herzlicher Gemeinschaft, Entwicklung innen und außen,
Yoga, Musik, Heilung, Lachen und Liebe.
Intensiv leben!
Wir freuen uns auf dich!
Shivapriya und Narayani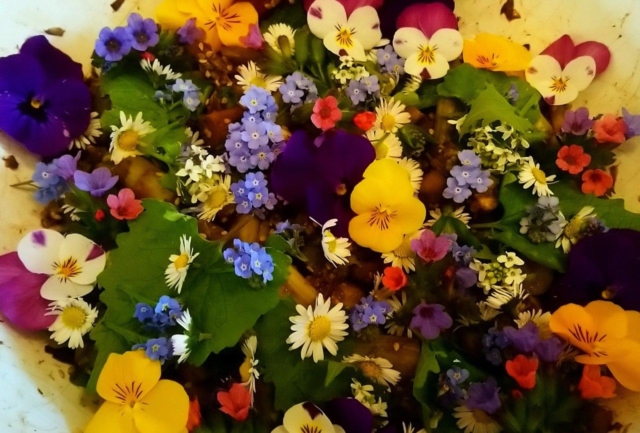 Invitation to spring detox cure
I want to invite you to let go. Let go of the toxins in your body, in your mind and in your habits.  I want to invite you to peacefully acknowledge they are there, thank them and let them go. I want to invite you  to nourish your body, mind and soul the way they need it, and to establish habits that allow you to do so on an every day basis.
Imagine you could enjoy your detox meals and even share them with your family.
Imagine your positive mindset could give you the stability to do your inner work, give you the energy to do so while you work and look after your family  and you can enjoy it!
Allow things to be light and easy, and deep at the same time.
Imagine you would keep rocking on like this, establishing daily routines to keep and nourish your energy, well-being and mental focus!
If this sounds great to you and if you are ready to commit to a three week process of supported detox I want to invite you to join me for my intense yet practical spring detox course!
This course is designed to support your physical and mental well-being, it's detoxing and nourishing at the same time. It's easy to incorporate into your every day life, flexible, adaptable and you can book it in two versions:
The In-My-Own-Time version provides you with all information you need on food, recipes, yoga practice and meditation in my detox guide. You can do this coures any time you want after your purchase. All info will be emailed to you.
If you want to dive really deep and would like more support, if you want the option to get more personal advice,and recommendations and naturopathy back up for your detox, I recommend you book the personally guided detoy course.
Here you can schedule individual zoom meetings to check in with me once a week, I will provide you with individual remedies, we can change or adapt recipes if needed, you get more yoga and mantra coaching and can ask me any questions burning under your nails. Start on march 7th.
Here are your benefits:
For you body: enhance your self healing powers, decrease inflammation, deepen the connection to your body create more body awareness, benefit from a healthy digestive system.
For your mind: establish positive habits to calm your mind, enhance your sleep, enhance your resilience, positive thinking to live a grounded, happy and energetic life.
Recipe book and detox guide are available in English! Link below to book your journey with me ❤️
Detox-Course, In-My-Own-Time
This is what you get:
A complete recipe book for one whole week that is absolutely flexible. You can interchange recipes, repeat them, move them around in the schedule of the day or week.
Tips and recommendations for when you get hungry, feel depleated, or have emotioine coming up.
Daily routines:
Detox guide and recommendations for Pranayama, Meditation, Asana, Water therapy, Abhyanga, Gratitude practice and Mantra practice.
Individual appointments with Shivapriya
Contribution: 49 €

Detox Kurs, personally guided 
Personally guided detox course:
Check in with me on a weekly basis! I'm happy to support you personally and hear your story. Here we can taylor your detox journey according to your needs. We can adapt the schedule, recipes and yoga practice. We can do yoga together. We can find individual naturopathic remedies if needed. Your pay 3 Zoom meetings and get the recipe book and the detox guide for free!
Individual appointments with Shivapriya
Contribution: 180 €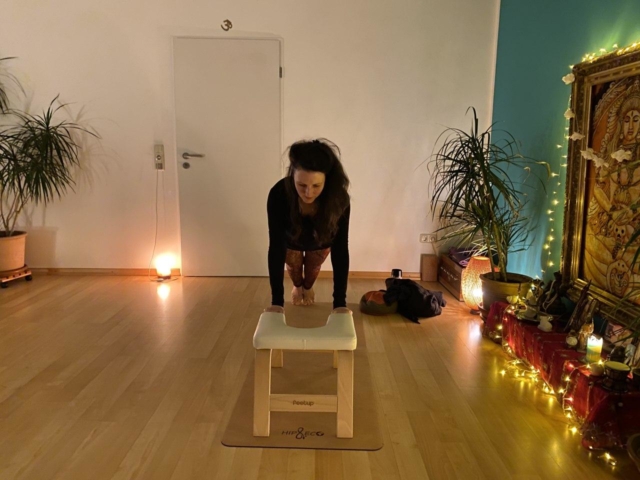 FeetUp open class
Bring deinen Kopfstandhocker mit ins Kashi und üb mit uns einmal im Monat.
Immer freitags 19.00 -20.30 Uhr
Nur einzeln buchbar.
Herzöffner – Lebe authentisch und frei! (Studio)
Leben aus vollem Herzen! Wer wünscht sich das nicht?
Wild und gefährlich?
Frei und authentisch?
Und doch gibt es all diese Dinge, die uns daran (vermeintlich) hindern.
Kennst du diese Sätze in deinem Kopf?
Ich muss noch unbedingt…..
Ich hab keine Zeit……
Ich bin zu schüchtern….
Ich bin nicht gut genug….
Es steht mir nicht zu……
Komm in deine Kraft!
In diesem Workshop möchte ich mit euch eine einfache Technik erarbeiten, diese Glaubenssätze loszulassen und in eine positive, offene Energie zu gehen.
Vor allem werden wir diese Energie mit Yogaübungen (Asanas und Atemübungen) unterstützen, so dass du in deinem Alltag und in Situationen, in denen alte Glaubenssätze aufpoppen, deine positive Kraft sofort und kontinuierlich stärken kannst!
Nimm dein Stahlen an und wachse. Du kannst es. Das weiß ich, weil ich es auch kann und immer wieder schaffe!
Wir sehen uns auf der Matte.
Herzöffner – Lebe authentisch und frei!
26.03.2022, 16:00 Uhr
mit Shivapriya
35,00 €
Anatomie-Training
Das Anatomie-Training für Yogalehrende soll dir die Möglichkeit geben, dich in Anatomie, Physiologie und Pathologie weiterzubilden, um dann deinen Teilnehmenden mit Rat und Tat zur Seite stehen zu können.
Details zum Anatomie-Training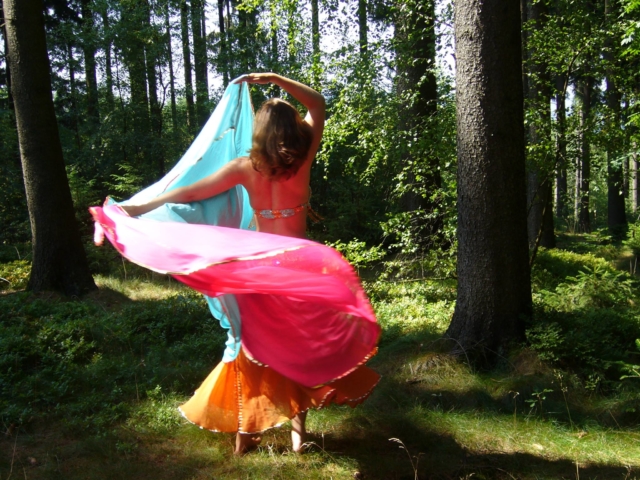 Rock your Chakras! Yoga und Orientalischer Tanz (online)
Da ist er wieder!
Aufgrund der großen Nachfrage, über die ich mich riesig freue:
An diesem Nachmittag werden Yoga und Tanz ineinander fließen, so dass wir genussvoll die Gemeinsamkeiten von Yoga und Orientalischem Tanz erfahren:
Das Erspüren des Göttlichen in uns selbst, die Verbindung von Himmel und Erde, die Geschmeidigkeit und den Energiefluss der Wirbelsäule, das Wissen um Erzeugung und Lenkung von Energie durch Bewegung. Das Augenmerk liegt auf auf Bewusstwerdung, Selbsterfahrung und Selbstheilung sowie auf dem praktischen und genussvollen Umsetzen des Gelernten im Alltag.
Bitte mitbringen: Ein Tuch für die Hüfte!
Rock your Chakras! Yoga und Orientalischer Tanz (online)
27.04.2022, 19:30 Uhr
mit Shivapriya
35,00 €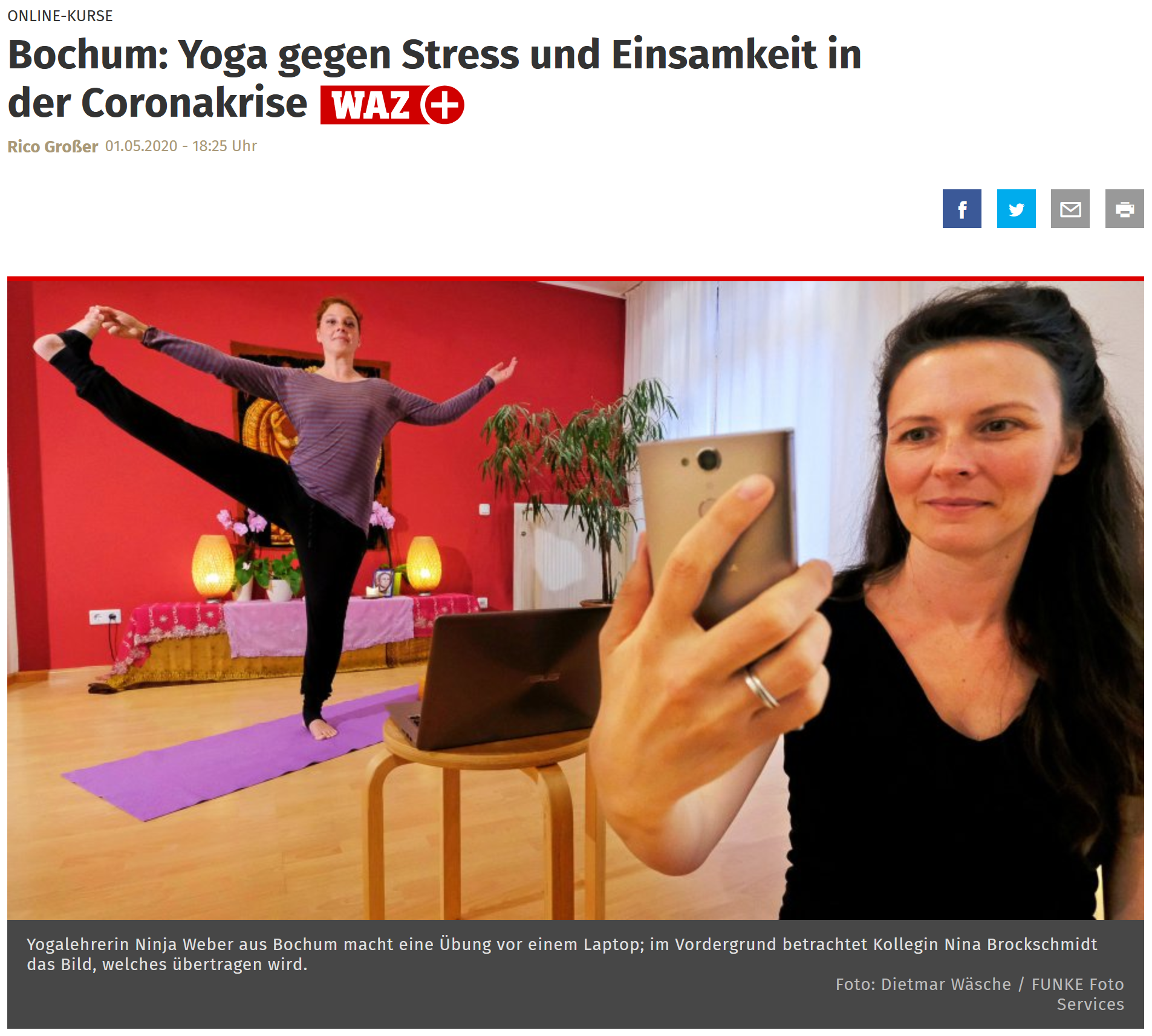 Die WAZ zu Gast im KASHI!
Die WAZ (Tageszeitung) hat uns im Kashi Yoga Sangam besucht, um über unser Online-Angebot zu berichten.
Namasté!
Wenn du das Kashi Yoga Sangam betrittst, machst du einen Schritt in dein Herz, ob hier, online, oder im Studio in Bochum.
Also: Herzlich willkommen in deinem Herzen!
Bitte mach es dir hier gemütlich, fühl dich wohl und zu Hause.
Im Kashi Yoga Sangam findest du verschiedene Wege, Verbundenheit und Ganzheit, Gesundheit und Kraft und Liebe und Glück in dir zu entdecken und zu verwirklichen.
Ja, genau: Du entdeckst und verwirklichst, und im Kashi gibt es Begleitung, Unterricht, Rat und Tat um dich dabei zu unterstützen!
Ob du dich dabei für Aerial, Yin oder Hatha Yoga entscheidest, in der Meditation zu Hause bist oder von Kirtan berührt, ob du Hilfe bei energetischen Prozessen brauchst oder dich in neue Lebenszusammenhänge begibst – all diese Wege führen zum Herzen und in die Tiefe das Herzens.
Ich bin froh, dich ein Stück auf dieser Reise zu begleiten! Komm in dein Herz, komm in deine Kraft!
YOGA Workshops und Seminare
Namasté!
Entering Kashi Yoga Sangam you are stepping into your own heart, here, online, or in the studio.
So: Welcome in your heart!
Please make yourself comfortable here and feel at home.
At Kashi Yoga Sangam you will find different ways to discover and realize connection and wholeness, health and power and love and happiness in yourself.
Yes, exactly: You are the one discovering and realizing, and at Kashi Yoga Sangam there is accompaniment, classes, advice and help available to support you in this!
If you go for Aerial, Yin or Hatha Yoga, feel at home in Meditation or touched by Kirtan, all these practices lead to the heart and into the depth of the heart.
I am happy to accompany you on this journey! Come into your heart, come into your power!
YOGA workshops and seminars