Lotus Gateway / Padma Tirtha
My album LOTUS GATEWAY / PADMA TIRTHA is out!
Oh what a feeling! Thank you, Babaji!
And what a journey! Thank you all for being (knowingly or unknowingly) part of the journey that lead me to making this album and for sharing the birthing process of this offering of prayers with me.
This is love, sounding like music, this is communion, sounding like music.
I especially want to thank Tom Simenauer, Tobias Bülow, Peter Green Tucker, Arjun Bruggeman, Trishula Haidakhandi, Hanna Hansen, Amanda Hamilton, Durgadas Harisudha, Dhanyo Scholten, Fantuzzi Music, Kat Dancer, Dieter Orzschig and Frank Dettke for sharing their music, their love and their expertise with me.
It was a very intense time for me. I learned a lot, I made many new friends, and I went through a deep healing process, slowly coming out on the other side now, with a heart full of life and a mind full of inspiration, with eyes recognizing myself again and a body channelling the energy and beauty of life. I am so thankful, it is beyond words.
It'll take some more breathing to grasp that Lotus Gateway really happened, but it is there now and making its way into the world.
Please message me if you'd like a copy!
If you would like us to sing and share Kirtan and Mantras at your Yogastudio / Temple / Church / Livingroom / Community Hall, get in touch, too! We'd love to be there with you!
Om namah Shivay!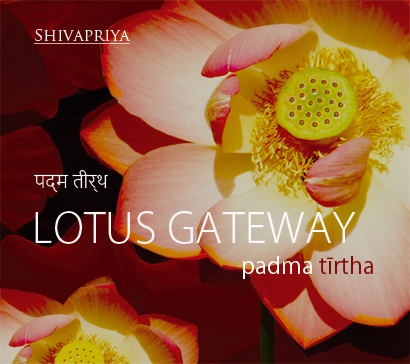 Performers / Contributers
So much love to share and to receive – that's how I felt working on Lotus Gateway. I can't even really say "my album", I feel it's Babaji's album and our album.
Because we're all in on the trip. Mantras are universal. Ancient and new in every moment of sharing them.
Thank you, family.
Shivapriya – vocals, harmonium
Frank Dettke – violin
Peter Green Tucker – reggae guitar
Tabla tOM – tabla, backing vocals and all other instruments
Hanna Hansen – artwork and design
Order LOTUS GATEWAY / PADMA TIRTHA
To order my first album please send an e-mail to info@kashi-yoga-sangam.de
Temple of thre Heart/Anahata Mandir
My second album TEMPLE OF THE HEART/ANAHATA MANDIR is currently in production. Stay tuned for updates!